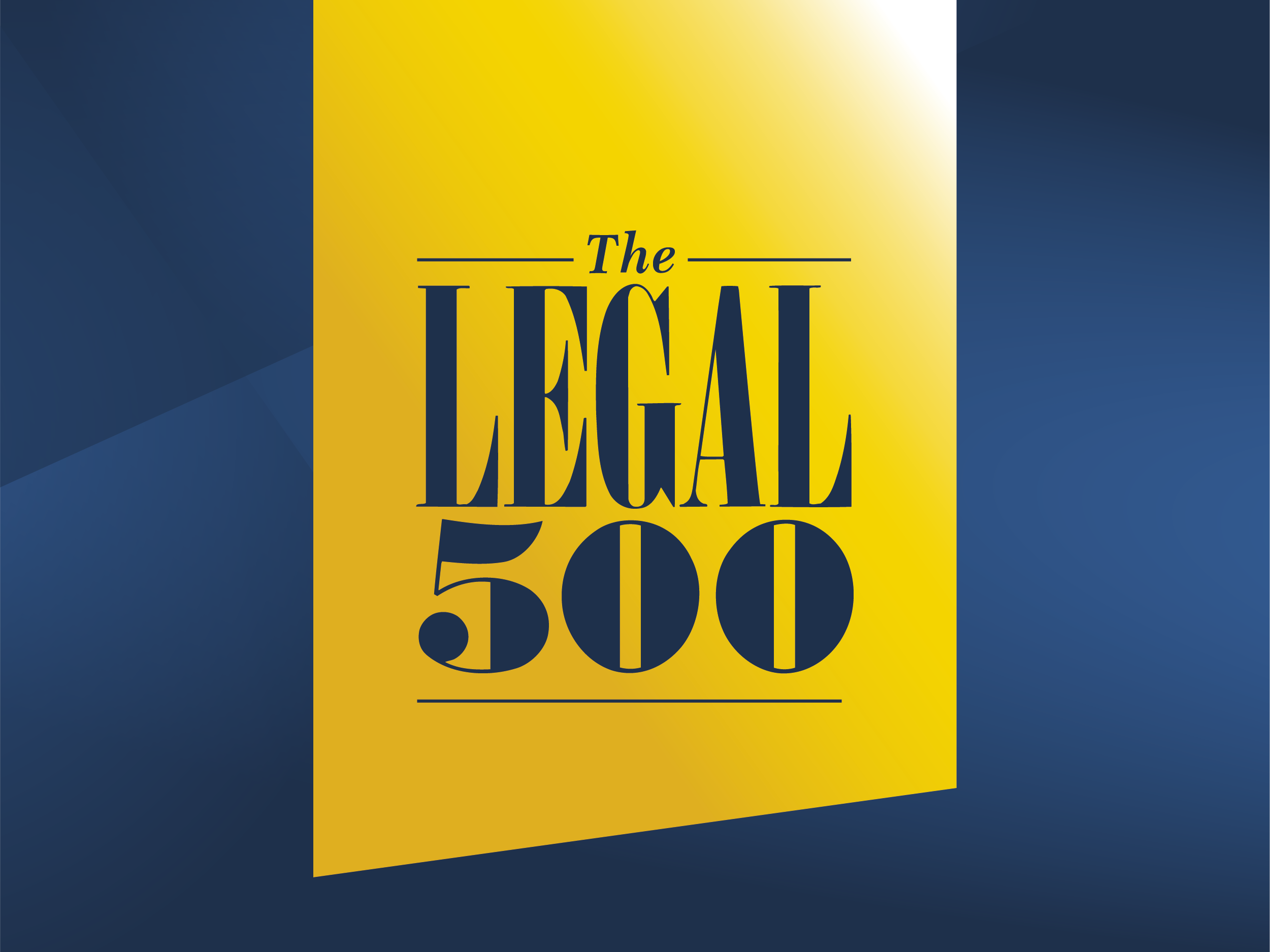 The eagerly anticipated Legal 500 results are in and we are delighted with the outcome. Highly regarded in the global legal market as bringing forward the most up-to-date and comprehensive scores of leading law firms, these results only showcase firms that offer the 'most cutting edge and innovative advice'.
We are pleased to have been awarded the accreditation in 4 distinct categories in the South East region:
Commercial Litigation
Family Law
Personal Tax, Trusts and Probate
Commercial Property
Our wins across the board are a testament to the strength and experience across the Jefferies team, and our ongoing commitment to a personal approach and professional delivery. Read on for all the details of our results.
'Commercial Litigation: Essex' category
Positioned at tier 2 for Commercial Litigation in Essex, our Litigation Team      were the highest ranked firm in Southend. We were commended for our 'knowledgeable, in-depth and quick-to-respond' services, and for giving 'clear, concise and relevant advice' to 'enviable large corporate clients', particularly in that of the motor manufacturing and dealership sector.
Sarah Mitchell was applauded for showing 'a very high level of understanding and knowledge of her client's business', exampling her work acting for a motor dealer in a six-figure breach-of-contracts dispute. Mark Rothman was highly commended as a 'seasoned litigator' who 'resolves litigation issues in the briefest time and achieves excellent results'. Also applauded by clients was Duncan Bennington for his 'impressive legal brain'!
'South East: Private Client – Family' category
Our Family Law department was pronounced as 'highly competent and knowledgeable', and claimed a team commitment that offers 'real depth', highlighted in particular for its representation of children in complex care proceedings.  Our practice lead Stella Young was commended as 'the go-to children panel solicitor for technical or unusual public law cases' and as 'a mine of information'. Furthermore, recommended was our 'hardworking' children matter specialist Anne-Marie Rainsford, who 'goes the extra mile for clients'.
'South East: Private Client –Private Client' category
Our Wills, Trust and Probate Team was considered to be 'excellent and very personal', for handling a wide range of matters concerning wills, lasting powers of attorney, probate and more. Head of department Gill Tobin was much-admired as a 'knowledgeable, honest, highly professional and empathetic' individual.
'South East: Real Estate – Commercial Property' category
Our Property Team was honoured as delivering an 'outstanding level of service', praised for its 'depth of expertise to deal with a wide range of issues', including transactions, leases and developments in a variety of sectors. Transaction partner Mark Hidveghy was noted as a main lead, while Katrina Holland was recommended for her 'attention to detail and unrelenting dedication to complete the task'. Others mentioned as core team members were partner Amelia Hayes, 'professional' consultant Alan Gershlick and solicitor Callie Tuplin.
Next Generation Lawyers
Mark Rothman, Duncan Bennington and Anne-Marie Rainsford have been named as leading Next Generation Lawyers. Well done!
Read more here: http://www.legal500.com/firms/4066/offices/6498